Did you know there are many different patterns which pavers can be laid?
They can provide a particular quality or functionality purpose or be laid in contrasting colour tones to create more of a design element in your landscape.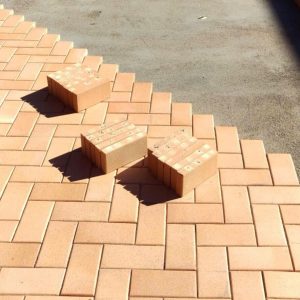 When starting to plan your paving project it might be of interest to think about the pattern options for your design to suit your home and the job requirements. For example, there are a variety of shapes and sizes you can choose from which can impact quality and design as well as a multitude of colour options to complement the job.
Large format pavers are a trending choice for 2018, they can assist in making a small space look larger and offer a modern look to your home. More traditional pavers are smaller and allow for more versatility in construction. Smaller pavers are commonly used for garden edges and creating curves, around pool coping for example.
Choosing the colour of your pavers can be a personal choice, they can be used to compliment your home, your landscape and your personal style. You can mix colours to create an eye-catching contrast design element within your paver patterns as well.
Popular paving patterns:
Stackbond
This paving pattern is used for large format square tiles offering simple and straight lines for a modern look.
Diamond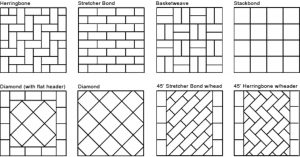 A simple variation to the stackbond pattern with the tiles creating diamond shapes in their placement.
Stretcherbond
This is a traditional pattern which can replicate the look of brickword of coble stone.
Basket weave
This pattern is reserved for smaller tiles, it can add intrigue to small areas.
Herringbone
The most common pattern for smaller pavers, this pattern is perfect for driveways as the interlock of the pavers adds extra strength to the paving structure.
There is always a perfect solution to any paving job if you are equipped with the right information and an experienced construction landscaper.
Ready for your new paving project to get laid? Call Terry for a quote today!