Types of Driveways
Your driveway makes up part of the entryway to your home, it's one of the first things people see form the street about your home. The driveway needs to bear the load of vehicles as well as providing from the street to the property and where the vehicle is housed.
A driveway is both practical and a part of your landscape design, so it makes up an important part of your front yard landscaping and the face of your home.
Not only are there design and balance considerations to make when deciding on what type of driveway you want to install but also the cost and ongoing maintenance of the driveway should also be considered.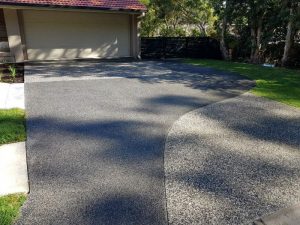 Concrete
Plain concrete is a very versatile material. Driveways laid in a smooth concrete are a cost effective and maintenance free solution for your new driveway. It also adds a smooth and easy base which can easily add feature details throughout and enhance to the design.
Exposed aggregate – on concrete
This is a type of concrete finish which reveals pebbles, shells, stones and/or sand on the surface. This is a great option to add colour and highlights natural textures and colours with the aggregates with smooth gravelly surface. Note, it is not a loose gravel surface.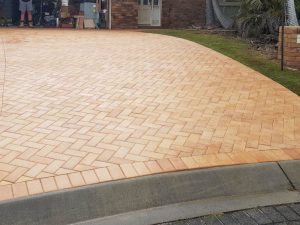 Paving
Paved driveways have been a popular choice of material for centuries. Driveway paving is an excellent choice for a long term, quality, strong, attractive and maintenance free solution for your home.
Paved driveways are unique to each home as they can be constructed in many different sizes, colours and even textures. See more paving styles in one of our earlier blogs on our website here.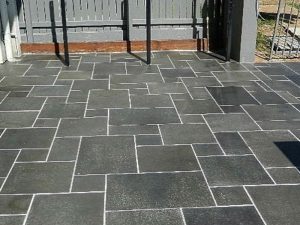 Tiling
Tiling your driveway is a fantastic option for your home. Bluestone tiles are one of the most luxurious choice, it is designed to fade over time and can be laid in numerous styles. With a growing range of natural stones to manufactured tiles, the choices are endless. Tiles will create a classic look to your home and can be cut to suit any shape and size and adds another dimension to the frontage of your property.