🌱 The Veggie Garden.
Spring I here, now is the time we get outside, we play in the yard, we start planting new flowers and tree's in the yard, it's also the perfect time to look at your very own Veggie Patch.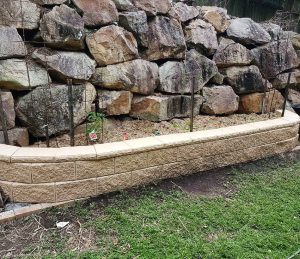 Have you ever thought about planting your own veggie garden?
September is a peak planting time for South East Queensland to capitalize on the mild spring weather conditions to produce a wide variety of vegetable crops at home. Things will become more difficult as the weather heats up and the summer storms start to set in.
We have made a small project at home with some sandstone retaining wall blocks to create a garden bed for our Veggie patch. How good does it look next to the rock retaining wall…
So, what Vegetables are good to plant at this time of year?
Solanaceous crops like tomatoes, eggplant, capsicums, tamarillo.
Cucurbits such as: cucumbers, pumpkins, watermelons, rockmelons.
Let's not forget to try planting; carrots, lettuce, radishes, beetroot, silverbeet & beans.
There are so many different seeds and seedlings to choose from in many garden centers, some with uncommon varieties of plant. It is important to research how much moisture your plants will need so you can keep up the maintenance. Also keep in mind attacks on your plants which may occur from bugs or animals in the area. What measures have you taken to minimize this and prevent your plants from being eaten or destroyed? Be sure to take precautions!
We have chosen to plant lettuce, cucumbers and tomatoes in our garden.
– Happy Spring planting 🌾