Is your backyard looking a little worse for wear?
Need some improvements to not only make your yard safe and functional but also look fresh, modern and inviting?
We think your backyard needs a little TLC too.
Not all construction landscaping jobs require a full backyard or front yard renovation, some just need a rebuild. Touch up the paved patio or driveway with a fresh new colour, or lay a tile instead. Spruce up the pool surrounds with a new Deck or paving ready for the hot summer months. Or take a closer look at your retaining wall, is it slanted, missing sections or completely on a lean? Time for a rebuild there too.
With this particular job, the timber retaining wall and staircase through the middle was starting to fall and become unsafe for use, Not only were the plants overgrowing on top of the timber but also under. Brisbane Home landscaping cleared the fallen retaining wall, removed the overgrowth of the plants and re-leveled the steps, we did a complete rebuild on the retaining wall and staircase and added a hand rail for added safety.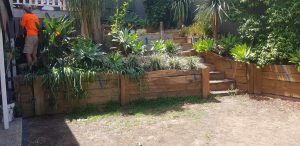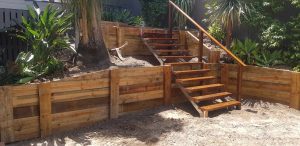 In the next job, the customer had the pool, ready to dive in, but no surrounds to keep the pool clean, add safety to the pool surrounds and in general look refreshing and inviting in their backyard! Brisbane Home landscaping not only laid 400x400x40mm Edenstone pavers to the surrounds and adjoining patio space, we also laid some lush green turf on the exterior for that extra lift to the yard. Of course, resetting the fence to all Queensland swimming pool safety standards.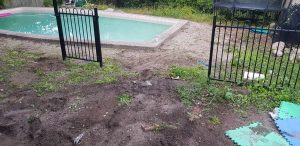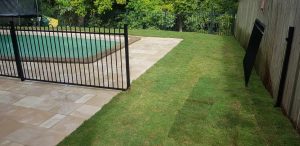 Check out more of our work on our Instagram Page – here