Is your landscape ready for the hit from Queensland Summer storms, or do you have backyard drainage problems?
Summer is coming and in Queensland that means the summer storms are coming with the heat. Do you have unexpected flooding in your yard, garden or neighbor's boundary line? It's time to get your yard in shape with the correct drainage solutions for your landscape before the storms wash it all away…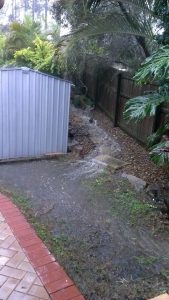 Having the correct drainage solution in your landscape can ensure you are covered for sometimes costly consequences down the line, especially in North Brisbane suburbs after an intense Summer storm hits the area. Majority of drainage problems occur because the drainage systems were not installed correctly when the landscape project was being completed.
As Bob from Bobvila.com explains, the drainage solution you require may not be a cheap fix but the absolute first thing you should do is speak to a professional – invite a full-service landscaping company to examine your property, diagnose the problem, and submit an estimate. A professional construction landscaper will be able to find the root of the drainage problem and have a quality solution prepared for you.
It's important to get your drainage problems fixed when you notice them, because as Bob explains; standing water seriously jeopardizes the health of your lawn and landscape plantings. Not to mention health problems and mosquito outbreaks.
Additionally to this, after the heavy rain falls we experience throughout North Brisbane suburbs from previous summer storms we know the flood risks from excess storm water can be dangerous and when it is not draining from your yard correctly can cause flooding to your property or into your neighbour's property, where it creates a huge number of additional issues, which are not going to be cheap to fix.
Get your drainage problems solved by a professional construction landscaper before it's too late. Contact Terry from Brisbane Home Landscaping for an in-depth Brisbane landscape design to fix your drainage issues.
Article ref: Bob Vila https://www.bobvila.com/articles/yard-drainage-solutions/