Update your pool and surrounds for safety and a modern touch.
As the weather heats up and the silly season kicks in, Brisbane residents move outdoors to entertain their friends and family and splash around in their pools. However, many Brisbane homes which have inground pools, had their pools build 20+ years ago and a lot of them are now in need of a re-vamp to update them to suit the modern landscape designs and keep them up to date with safety legislations. Not only are pool fences required to adhere to strict Queensland Government standards, but your pool surrounds need to fit safety requirements as well.
Key legislation you MUST update for QLD pools and surrounds: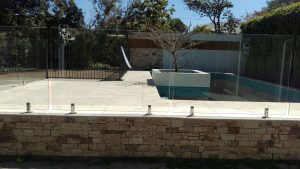 Pool fence must be kept 1.2m high from ground level
Pool fence must not leave a gap at the bottom of the fence more than 10cm and there must be no gaps between the vertical bars larger than 10cm
All gates must be self-close and self-latch with the latch being 1.5m from the ground
Pool gates must never be latched open
Pool surrounds, must be safe and clear from obstruction
Here are 7 quick ideas to update your pool and surrounds:
Paving or tiling around the outer edge of your pool area, keeping your pool modern and spacious with low a maintenance landscape
Add step pads or a pathway, through your yard towards the pool, for easy access and a clear pathway to and from the house
Add a Rock or retaining wall feature to your pool area to create dimensions, low maintenance design and a modern look
Build a deck. Adding a deck to your pool area can immediately improve the design of your backyard, this can be a ground based deck, or a raised deck overlooking the pool depending on the needs of your property and your landscape
Install a new fence. Clear glass fencing is a popular choice right now for pool fencing, it provides a clean, modern look to improve your pool area with immediate results
Install a sun shade which adds additional sun safety to your pool
Finally, you could plant some tropical palms throughout your pool surrounds to create your own oasis at home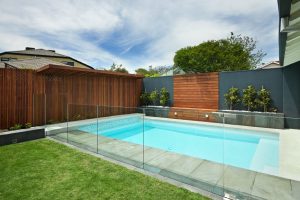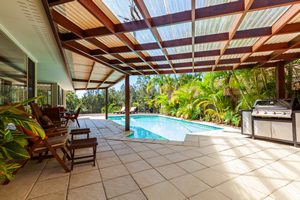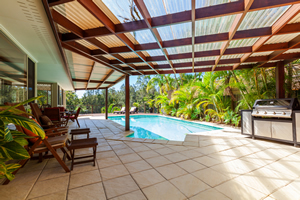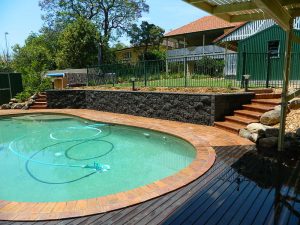 Updating your pool and surrounds can also increase the value of your home, so a re-vamp will be a WIN all around for your property.
See more here – Brisbane Home Landscaping